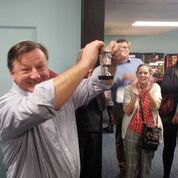 BMW Club Oxford Section Report for February 2019
Change of Venue
With immediate effect the pub social based at the Red Lion, Evenley, Nr Brackley, NN13 5SH has moved to:-
Rose and Crown, Main St., Charlton, Banbury OX17 3DP
February 9th Sat Nav Event, Vines Guildford – Steve Moxey
We had a very good Sat Nav event with Southern Section today at Vines Motorrad and we have raised a further £155 for the Thames Valley Air Ambulance. Carl Flint did a great job arranging the event with Simon Forder at Vines Motorrad. This was the most sophisticated Sat Nav event we have done so far: Carl and Andrew Lawson ran a comprehensive Basecamp class in the upper showroom whilst downstairs Ray Cawte, Ian Richardson and myself. We received great help from Martin Skennertonand Dave Williamson and also the Southern Section team: James Seller, Erica Body and Chris – overall a good event for Vines, the BMW Club and TVAA. We are always learning from the sat Nav events so the next ones can be even better. Many thanks to Simon Forder at Vines Motorrad for hosting the event.
February 17th– Tenpin Bowling Oxford vs Southern section
The weather was dry and sunny, glorious and always a great excuse to get the bike out and head to our annual bowling match at the Newbury Bowl.
It was an excellent turn out of 30 plus members who despite not having bowled since last year, soon began the friendly competition with much gusto and loud support as the bowling started.
For some of us, it took a while to get our "eye in" but I maintained a "completely useless" bowling technique, ah well there's always next year! Others were very graceful and enjoyed a number of "strikes"….
After 2 games across several lanes, our host for the bowling, Bob Mack carefully calculated the scores which showed that the Oxford Section had won by a slender margin. After much good humoured banter the cup was presented to yours truly on behalf of the section with Zenon Krafft winning the best score trophy and the wonderfully valiant Rosemary hicks being granted the lowest, which may have something to do with Rosemary breaking her arm a few months ago, but still bowling on the day.
Heartfelt thanks to Bob Mack for his excellent organisation and to Erica from the Southern Section for making it all happen at her end. We ae looking forward to the event in 2020 already!!
February 21stSNR to Greenham Common Control Tower & Lunch – Steve Moxey
We had good weather today for the SNR run to Greenham Common Control Tower, what an amazing place and the modern history surrounding the site. A dedicated of enthusiasts the had a wonderful curvy route to the Red Lion at Chieveley for lunch. There were 15 attendees and 10 made it to the Red Lion, a great morning out!
February 24thSunday Lunch Hongxin Chinese – Steve Moxey
A nice lunch at the Hongxin Oriental Buffet in Swindon, thank you to Martin Skennerton for arranging. The spring like weather, was wonderful for motorcycling and we had six bikes in total.
Sat Nav Event – Steve Moxey
BMW Navigator V,VI Top Tips guides available so that members can get a copy for a £5 donation to Thames Valley Air Ambulance and £1.50 postage, a very good cause to support
Future Events: January 2019 / April 2019
April 14thRIDE OUT:8.30am meet @ Piggies SN15 4PW for breakfast, leaving at 9am to Sammy Miller's for lunchNoel Robertson noelrobertson@btinternet.com
April 21stRIDE OUT: Charity Berkshire Egg Run, meet at Sainsburys RG31 7SA J12 M4 John Hillier 27johnhillier@gmail.com
May 12thRide out: Whitchurch Silk Mill guided tour and cream tea. Rosemary
Hicksrosemaryhicks@hotmail.com
May 17th– 19thWeekend Break: Hotel in Ludlow, ride out to Central and West Wales. Carl Flint cerfsky@sky.com
May 26thRide out: Bike Shed 2019. Meet 8am Peartree services OX12 8JZ, travel to breakfast at the Ace Café Tobacco Quay, Wapping Ln, London E1W 2SF. Chris Bondchris.bond@bmwoxford.com
May 31st– 2 June Lechlade Camping Weekend: Bridge House Camp Site Lechlade GL73AG. www.bridgehousecampsite.co.uk Dave Hawkins01993 850862 or maddave02@hotmail.co.uk
June 9thRIDE OUT: To Bletchley Park, Milton Keynes Steve Moxey steve.moxey@bmwoxford.com
June 15th– 22ndOxford Section Austrian Trip– Hotel Weisseespitze contact: Martin Skennerton martinsken@hotmail.com
June 24thCassington Bike Night:John Broad john.broad85@talktalk.net
July 1stLudgershall Bike Night: Section stand Dave & Rosemary Hicks rosemaryhicks@hotmail.com
July 6th– 7thACU / BMF Rally, Carterton Checkpoint. Ian Dobie ian.dobiesnr@btinternet.com
July 7thRIDE OUT:Mystery Tour Andy Byatt andrew.byatt@icloud.com
July 9thUpton (previously W. Hagbourne) Bike Night: Section stand – Graham Chapple gjchapple@googlemail.com
July 14thRIDE OUT:Mystery Tour, Mike Barnard mike@glebe-farm.co.uk
July 27thCalne Bike Event:Section stand – John Russ john.russ1942@gmail.com
Don't forget to make a note of the dates from the trifold calendar that you wish to attend into your diaries, we will also be updating the website regularly and posting on Facebook.
Here's to safe riding and some good weather.
Dave Tomlinson
dave.tomlinson@bmwoxford.com