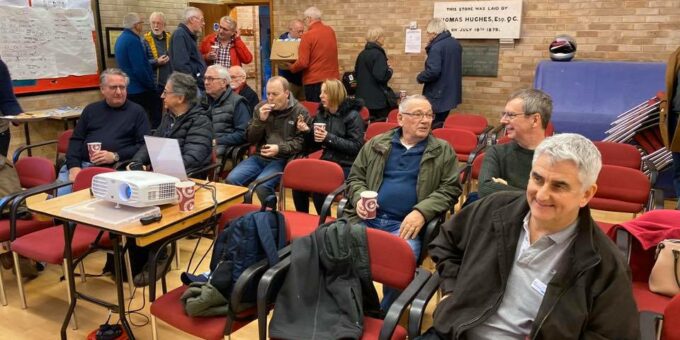 BMW Club Oxford Section Report for December 2019
December 3rdDashwood Arms Christmas Dinner
A very enjoyable Christmas dinner at the Dashwood Arms, thank you to Dave and Rosemary for organising. We had a good turnout I would guess about 25 and the food was excellent. The much-awaited Christmas Jumper contest was livened up by a new entry from Adrian, although last year's winners Di and Graham held off the challenge by a short head……
December 8thOxford Section Sat Nav Event – Steve Moxey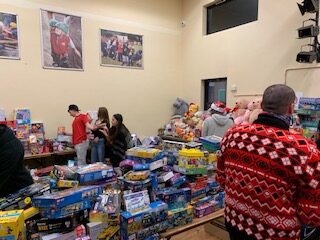 It was good to see everyone at a Uffington for the pre-Christmas indoor meeting on Sunday. Thank you to Carl Flint for a very interesting demonstration of MyRouteApp – a Basecamp alternative. Carl had assembled an interesting technical setup including a live video of a BMW Navigator projected on the screen. We should be able to use some of this for future events. Thanks to everyone for their ideas for Sat Nav activities in 2020 we will discuss those with James McMinn at NOG to see what can be done. Dave Tomlinson has some interesting plans in the pipeline for an expanded SNR programme in 2020 (we are calling it SNR+!) watch out for more details early in 2020. Hope you all have a great Christmas
December 8th Charity Ride Out Reading Toy Run – Dave Tomlinson
Thousands of bikers dressed up in festive outfits for the annual Reading Toy Run. Now in its 34th year, the annual event sees bikers throughout the area dress up in Christmas gear to deliver donated toys to Barnardo's High Close School in Wiltshire Road, Wokingham.The toys then get distributed to needy children who are referred to Barnardo's and other children's charities. Having been marshalled, very professionally into the various staging car parks, we then rode in convoy along Lower Earley Way to Showcase roundabout where we took the A329 Reading Road to Winnersh, through to Shute End in Wokingham and then onto Rectory Road and Wiltshire Road before finishing at the High Close School.Onlookers are encouraged to line the roads where it is safe to do so to watch the bikers pass. The roads are closed while the Toy Run takes place so the massive convoy can head on its journey safely and unimpeded.
Reading Christian Motorcyclists, who organise the event, have thanked drivers for their patience and apologised for the delays in advance.
"We appreciate it will be hard for people, so thank you everybody for your patience, it's all going for good cause."
We managed to grab a dry clear day for a rideout to our chosen meeting place at a petrol station near Reading. 4 club members met there whilst others were associated with the Christian Motorcyclists and a "blue light" contingent. John Hillier, kindly organised the event for club members and led the "charge" to our car park, where hundreds of other bikes were being marshalled.
At 2pm precisely, the ride out began…. It took around 30 minutes for thousands of bikes to clear the car park and start the route. I thought that this year's spectators were even louder and came out in their hundreds to wave the bikers past, very impressive.
After about 20 minute's of close formation riding, we arrived at the Barnardo's facility, where our toys were gratefully received as was the cup of warming coffee.
Thanks to John Hillier for organising and to everyone for their company and a good day out for a very worthwhile cause.
TVAA, Life Saving Ap – Dave Tomlinson
I am very grateful to John Broad for bringing the Thames Valley Air Ambulance 3 Words Save Lives (using What3Words) to my attention. Basically, this little app, which you can download onto your phone, will give your 3M x 3M position square in three words X.Y.Z which you can then give to the emergency services. This could easily be a life saver if you need help away from a landmark and is MUCH easier than quoting gps coordinates! It is also quite good fun for instance the What3Words square for the BBQ on Sunday at Postern Hill is 'trucks.worksheet.widely' – although hopefully we won't need TVAA…… For more information and to download the app see https://www.tvairambulance.org.uk/what3words?fbclid=IwAR2yRSC9VcwT7rhYASG5iaE1eNlnHEbFpeasGIjnK40hbqkUJKgUzPivqAc
Sat Nav Event – Steve Moxey
BMW Navigator V,VI Top Tips guides available so that members can get a copy for a £5 donation to Thames Valley Air Ambulance and £1.50 postage, a very good cause to support
Future Events: February 2020 / April 2020
February 9th– INDOOR MEETING:Uffington village hall, SN7 7RA, soup & food, Speaker: Katy Eyton 14.00. Thames Valley Air Ambulance dave.tomlinson@bmwoxford.com
February 24th– Southern Section vs Oxford Section Challenge Dave Tomlinson dave.tomlinson@bmwoxford.com
March 8th– Indoor Meeting: Uffington Village Hall, SN7 7RA.  Speaker Andrew Slater 14.00 from Thames Valley Advanced Motorcyclists dave.tomlinson@bmwoxford.com
March 22nd– Sunday Lunch: Hongxin Chinese, Pepper Box Hill, Peatmoor, Swindon SN5 5EZ. 12.00 for 12.30, Martin Skennerton martinsken@hotmail.com
April 10th– RIDE OUT: Charity Berkshire Egg Run, meet at Sainsburys RG31 7SA J12 M4 John Hillier 27johnhillier@gmail.com
April 19th– RIDE OUT:tbc Dave Rodgerdave.rodger1@gmail.com
Don't forget to make a note of the dates from the trifold calendar that you wish to attend into your diaries, we will also be updating the website regularly and posting on Facebook.
Here's to safe riding and some good weather.
Dave Tomlinson
dave.tomlinson@bmwoxford.com
or check the website at bmwcluboxford.com & https://www.facebook.com/groups/bmwoxford/.