Author Steve Moxey
For the 2019 season BMW has added a new type of garment to its Rider Clothing range: the ClimaProtect trousers. This protective garment is designed to be worn over normal clothing and have long side zips to make it easy to take them on and off. This is the first time BMW has offered this type of product.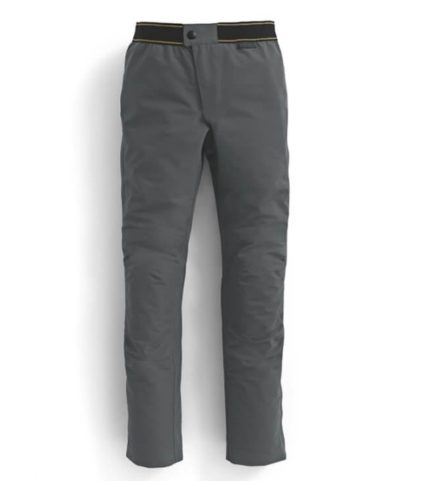 The ClimaProtect trousers are made of an abrasion resistant polyamide material that is a three-layer laminate construction with BMW climate membrane. This makes the trousers waterproof, windproof and breathable. One important feature of the construction is an elasticated waist, without belt loops, and an internal popper system to make the waist fit more closely once you have the trousers on.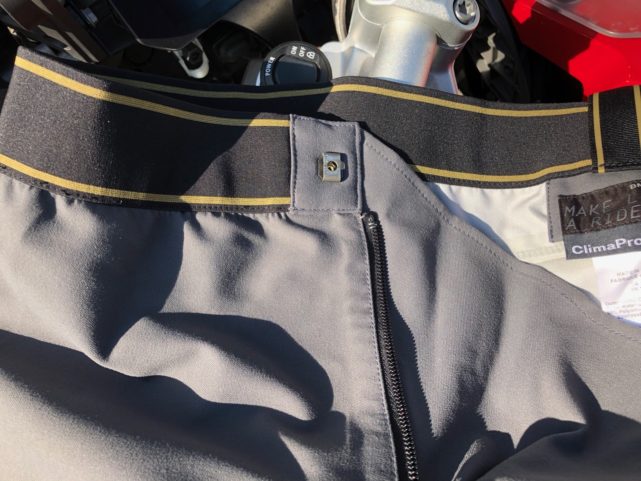 I must admit I was rather concerned about the lack of belt loops, or anywhere to attach braces – you don't want your trousers falling off after all! But in practice the ClimaProtect trousers stay up very well, helped by their light weight and elasticated waist.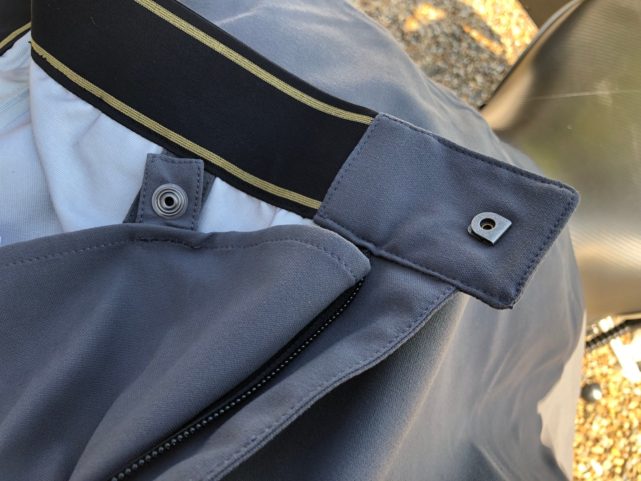 The ClimaProtect comes with height adjustable knee armour, and hip armour is available from BMW to fit in pockets – a sensible upgrade. The trousers are a pleasant grey colour with reflective strips on the outside and yellow flashes on the inside. I am not sure what the inside flashes are for – to make you visible when taking the garment on and off? The trousers do not have any pockets, or ventilation zips, although the material is breathable. The trousers come with a standard BMW zip for connecting to a jacket – I tested this with my Boulder 3 jacket, and it makes a very nice summer combination.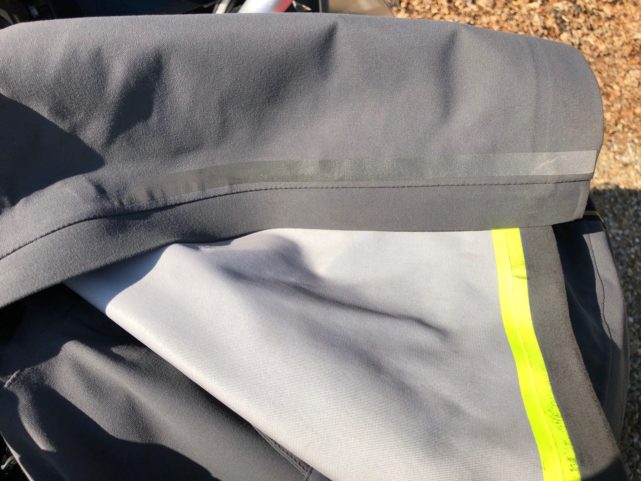 You need to think about this type of motorcycle trouser differently from traditional trousers, as they are designed to be worn over existing clothing. This means you can ride and then remove the outer trousers to leave you in normal clothing. This is important if you are commuting to work or when you reach your destination to enjoy a walk, meal or visiting attractions in comfort. If you are planning to ride your motorcycle all day then it probably makes sense to wear your standard motorcycle trousers.
So how do they work in practice? Well I purchased a pair of ClimaProtect trousers from North Oxford Garage, and at the time of writing have had about three weeks of use. So far, I have ridden with them in temperatures from +2C to 18C and the ClimaProtect have worked very well, providing you adjust the clothing worn underneath. With normal winter trousers underneath, the ClimaProtect trousers are actually warmer than my BMW TourShell trousers worn with a base layer. The ClimaProtect has proved water proof in moderate rain. Taking the trousers on and off is very easy and they pack to a very small volume on the motorcycle.
I also own some Aerostitch Darien trousers, which are designed to be worn for travelling in varied conditions: from low temperatures to over 100F (the name comes from a trip to the Darien Gap in Panama). The Darien trousers, like the ClimaProtect, have NO insulation and long zips to allow you to take them on and off easily. In addition, the Darien trousers allow ventilation and are of much more expensive construction with Gore-Tex and 500D Cordura, armour etc. I have ridden with my Darien trousers in a blizzard in the Alps at altitude, and up to 115F in the Nevada desert. The Darien is more than twice the price but the ClimaProtect stands up well in comparison and would be my first choice for a short journey, or short summer ride. How durable the ClimaProtect will prove to be after 20 years, and the many thousands of miles my Dariens have endured, only time will tell.
See https://www.aerostich.com/sundry/guides/adventure-rider/darien-pants.htmlfor more information.
Conclusions
The ClimaProtect trousers are a very useful garment, well suited to commuting, short trips or situations where you would like to be able to get out of your motorcycle clothes completely to walk, visit, or enjoy a meal. The ClimaProtect should not be your first choice for long motorcycle journeys, trips or situations where you will stay in your motorcycle clothing all day.
So, if you have not tried on a pair of the new ClimaProtect trousers at £199 (BMW Club discounts may be available!) it might be worth having a go, you may be pleasantly surprised:
https://oxfordbmwmotorradstore.co.uk/bmw-climaprotect-trousers-437-p.asp.
The ClimaProtect seems to be selling well. Now that BMW has dipped its toe in the water of 'easy to take on and off' clothing perhaps we will see future versions designed for longer journeys with extra features?