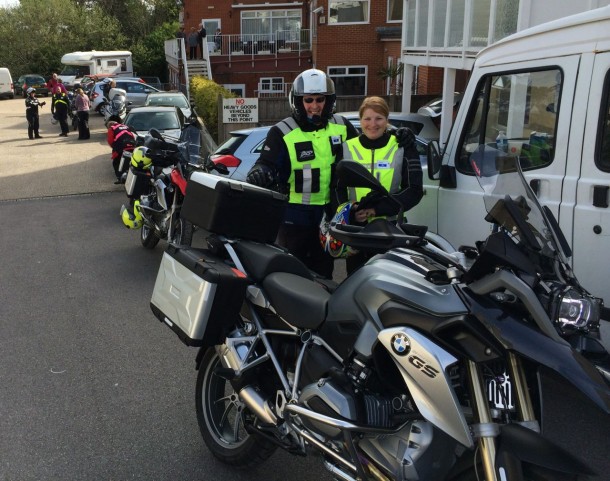 I'm sorry for this but it has to be said
There's more to achieve than by staying in bed.
Up fresh and early to meet with the boys
To get on our gear and go play with our toys.
Now I've ridden for years since I was a kid
My mates spent on cars,but that's not what I did.
You see a car is alright but it does not fulfil
The desire for riding, or come close to the thrill
Of two wheels to guide, to control and enjoy
This vibrant, sporty, touring, high status toy.
My biking history could have been better
Having started out on a glitzy Lambretta.
In time was surpassed by a Norton 250 twin
That broke down so often ended up in the bin.
Next in line was a Reliant ,'3 wheeled pig'
That was about as much fun as a microlite fig.
Relationship enters and disrupts my life on two wheels
For 26 years, 3 kids and countless square meals.
At last I resume my love of the bikes
GPZ 500 that rode like a brick, so many dislikes.
A Fireblade was selected- Oh, what a blast !
Suicide missile, so control was learnt FAST.
Six years on sporty's and the decision was made
Gonna kill yaself sonny, stop! so the pipers not paid!
A more sombre selection of fun to be had
By riding Harley's as a middle aged fad.
In fairness we shared some magical times
Slow touring Europe while dressing in rhyme.
You see we all dressed in leather, badges and stuff
Highly polished chrome and HD posing guff.
This came to an end as I needed more vigour
Then up pops Charlie Boorman and Ewen Macgregor.
Look at the fun, the camaraderie and that BMW bike
That's for me not a geriatric trike.
Well I did like so many and worked my way through
650, 1150 and GS to mention a few.
Why did it take so long to find the right one
Liquid cooled GS to support my bum.
It's the pinnacle, the ultimate, my bike of choice
The veritable , practical, multi- tasking Rolls Royce.
To me it's got whatever IT is
A tourer, a scratcher it's definitely the BIZ.
It's quick if you need and great on the bends
Every predecessor this bike easily transcends.
Now the bike is selected it's the GS for me
All that's needed are some playmates to see.
The BMW club was my appropriate route
Guy, Gals and a good laugh to boot !
We travelled together on many a good road
Through many a county in sun, rain and cold.
It's always an experience of vision and fun
A long lasting memory of things we have done.
Let's hope this continues for many a year
Great times with my mates I truly hold dear.
Now I've prattled on now for far too long
So enjoy the ride amongst the rest of the throng.
Just do as I did and join in the fun
As a BMW club member it's gotta be done !