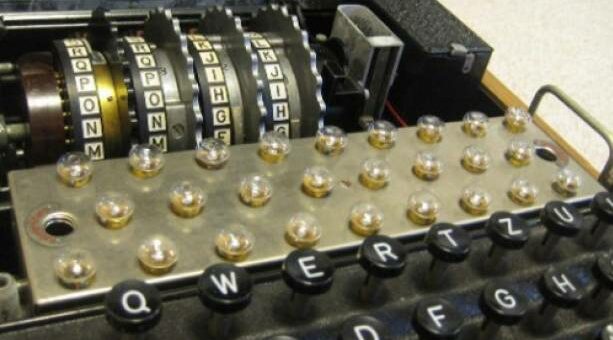 BMW Club Oxford Section Report for June 2019
June 9thRide Out to Bletchley Park & Super Sausage – Dave Tomlinson
Super run for the ride out on Sunday, around 20 hearty members met at the MacDonald's at Benson (OX10 6LX) for a coffee and a natter.
10am soon arrived and David & Rosemary Hicks led the group on a winding, scenic route to Bletchley Park, home of the WWII codebreakers https://bletchleypark.org.uk/.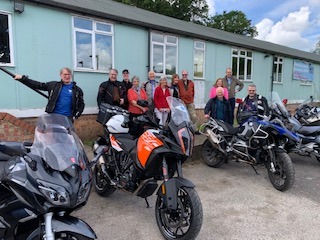 Some of our group then made their way to the Super Sausage cafe, http://supersausagecafe.co.uk/whilst 12 of enjoyed a few hours and tea at the site. It's far too large to enjoy in one visit, your ticket however, lasts all year….. great value.
Special thanks go to Rosemary and David Hicks for all the detail arrangements, an excellent route to ride and for somehow arranging the perfect weather.
June 15th– 20thAustrian Trip – Geoff Clough
A total of 22 people travelled out to the Hotel Weisseespitz (aka Charlie's) near Landeck in Austria. About half of us met up at either Clacket Lane services on the M25 or at the Tunnel on Thursday 13 June. After a hectic queue in the car park (as there were many sports cars heading for Le Mans) we arrived at our first stopover in Reims. Geoff was leading the cavalry charge by this time and misread his satnav (he should have read his copy of the Top Tips guide more carefully) and lead the group around in a loop before finally finding the hotel.
The following day we departed in smaller groups arriving at the highly recommended Hotel Waldblick in the Black Forest for our second overnight stop. After a suitable number of beverages, an excellent meal, and a good night's sleep, we were fully refreshed and raring to get to Austria.
On the Saturday we left the Black Forest and instead of leading the group, Geoff elected to be tail end. On the outskirts on Friedrichshafen he became detached from the group. He carried on into Friedrichshafen looking hopefully for his colleagues when he spied the Three Amigos riding along in the opposite direction! A quick 180 and he was in pursuit. No sign either of the Three Amigos or the way out of Friedrichshafen! After a false turn or two, Geoff stopped and requested help. Armed with local knowledge he final made it to the motorway service station at the Austrian Border to buy his vignette and be reunited with his colleagues.
The safely reunited group set off through the tunnel beneath Bregenz and over the L200 aiming for the Flaxen and Arlberg passes. Once again, the group was safely led by Dave Shanks with Geoff as tail end. The group became a bit spread out and in Warth, the main road went left. After a few miles with no sight of bikes in front of us, the three bikes were travelling NE or N. Geoff overtook the two bikes in front and called a halt. After viewing the map, he realised that the best route was back a couple of miles than over the Hahntenn-Joch pass to Imst. A wonderful road, but not a good introduction to hairpins for pillions. We arrived safely, ahead of Dave and his two travelling companions.
The rest of the week was a delightful mixture of riding passes, more beers and late afternoon thunderstorms. The weather started to change on Friday and was a bit damp on our way home on Saturday, but otherwise fine, dry and hot.
June 15th– 20thAustrian Trip – Steve Moxey
On the way to Regensburg we had a problem on the GSA: there was a clicking noise and some rough running but no obvious fault and we managed to cover 80KM to BMW Cloppenburg at Ansbach, arriving just before closing. They checked coils, plugs etc and thought it might be a valve problem, after an inspection with a fibre optic camera. BMW Cloppenburg were incredibly helpful and booked us into a very nice local hotel and transported us there. Uwe Götz, the service manager, called the following day to say that the problem was a broken valve spring – very unusual. Parts arrived on Friday and we were be back on the road arriving in Prague late in the day.
The broken valve spring cost about €8, a very small part of the repair bill. We were very well looked after by Uwe Götz and his team. BMW Cloppenburg are Part of the BMW Group Classic scheme and support older BMW motorcycles as well. If you need help in Bavaria they are an excellent dealer to use they had recently dealt with a K1300S wheel bearing for a UK owner.
We did get a chance to look around Ansbach which is an interesting old town in Bavaria. We visited the palace of the Margraves of Ansbach where you could certainly get much closer to the artefacts than in an English stately home. The last Margrave: Charles Alexander sold the Margrave of Ansbach to Frederick the Great of Prussia for an annual income of 300,000 Guilders and retired, with his English wife Elizabeth Craven, to Benham Park near Speen, Newbury (close to the A34/A4 junction and about 5 miles from our home, it is a small world!)
Now back in the UK BMW Motorrad have kindly agreed to replace all 8 of the valve springs as it seems the only explanation is a manufacturing defect in the valve spring. Given there are no other examples of this problem this is probably just for peace of mind. Many thanks to Alistair Walker at Bahnstormer Motorrad for sorting this out. Life is what you make of Plan B as they say.
Many thanks to Martin Skennerton for arranging the trip….
June 24th– Cassington Bike Night – Dave Tomlinson
Run by the village of Cassington, the Cassington Bike Night is a once a year gathering of modern, vintage and classic motorcycles. The event takes place on the last Monday of June each year.
The format is the same as previous years – thousands of bikes to see, lots of food options and a beer tent on the village green. What better way to spend a summer evening!
Cassington Bike Night is a free-to-enter event. They do ask for parking donations to cover the cost of road-closures, cones, first-aid, toilets etc… Any surplus from donations goes to the village charities.
Oxford section had their usual stand and special thanks go to Rosemary & David Hicks for manning the stand, John Broad for organising and marshalling at the event and together with Tim Bolderston and Ian Cummings for their efforts in putting the stand up, Andy Lawson for a 4 hour marshalling stint and Martin Skennerton for arriving at 3pm direct from the Austrian trip to take over a marshalling position, well done everyone…..
Sat Nav Event – Steve Moxey
BMW Navigator V,VI Top Tips guides available so that members can get a copy for a £5 donation to Thames Valley Air Ambulance and £1.50 postage, a very good cause to support
Future Events: June 2019 / August 2019
August 18thSection BBQ Savernake Forest: Zenon Krafft zk@krafftandco.com
August 18thRide OUT: Section BBQ, Savernake Forest Tim Bolderstontim.bolderston@bmwoxford.com
September 8thRIDE OUT: Nuclear bunker and WW2 factorynear Kidderminster  www.drakelow-tunnels.co.uk£20 approx, Dick Robinson treefitter@me.com
4 – 7thOctoberAutumn Weekend Hotel Breakstaying at the Gwbert Hotel, Cardigan SA43 1PP, David & Rosemary Hicks rosemaryhicks@hotmail.com
October 27thSkittles challenge: Western Section v Oxford. The Old Royal Ship, Luckington, Wiltshire, SN14 6PA. contact: Dave Tomlinson dave.tomlinson@bmwoxford.comor Denis Bradbeer western.social@bmwclubuk.net
Don't forget to make a note of the dates from the trifold calendar that you wish to attend into your diaries, we will also be updating the website regularly and posting on Facebook.
Here's to safe riding and some good weather.
Dave Tomlinson
dave.tomlinson@bmwoxford.com