BMW Club Oxford Section Report for December 2017
SNR's: Oxford section have also introduced Short Notice Rides, these tend to be mid-week events with a day or more notice, which have been very popular.
Unfortunately, due to holidays, work commitments and adverse weather conditions a number of events had to be cancelled.
5th, 12th, 14th, 16th, 19th – Christmas Meal Specials
The Oxford section held 5 natter night Christmas dinners in December which despite the weather were very well attended and enjoyed by all
Sunday 10th December – Christmas Indoor meeting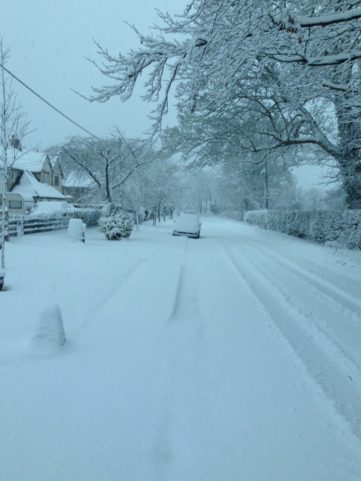 I spent an hour clearing the car and road of snow ready for my intrepid journey to Uffingham, as I sat in the car, finally ready for the off my mobile pinged up with a message to say the event had been cancelled due to the wintery conditions – lucky I say…..
16th January onwards – Venue Change
Our Pub Social is moving home, please make a note of the new address: Tawny Owl, Taw Hill, North Swindon, Swindon SN25 1WR
Oxford Section Sat Nav Project and Survey
Earlier in the year we announced the start of the Oxford Section Sat Nav Project between the Oxford Section and North Oxford Garage. The aim of the project is to improve our collective knowledge of how to use our Sat Nav's and to help members get the best from them.
We have produced an electronic newsletter, and now we are working on a booklet supported by a local dealer of top 100 tips. The first of a number of workshops is organised for January addressing some of the issues identified by our members.
Drop me a line if you would like an insight into the results
Future Events: February / April 2018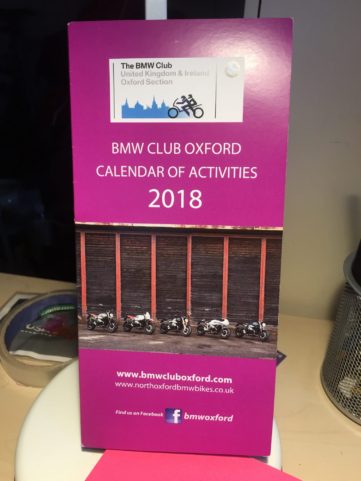 February 11 Sunday lunch: Hongxin Chinese, Pepper Box Hill, Peatmoor, Swindon SN5 5EZ. 12.00 for 12.30. Martin Skennerton martinsken@hotmail.com
February 18 Ten Pin Bowling: Southern vs Oxford at Newbury Bowl. Bob Mack bob.mack@bmwoxford.com
February 25 Indoor meeting: Uffington Village Hall, SN7 7RA. Speaker Andrew Byatt 14.00. Charity Byways ride from John O'Groats to Land's End andrew.byatt@icloud.com
March 22 Diamond Light Source tour: Harwell OX11 0DE. 18.30 Catherine Moxey catherine.moxey@bmwoxford.com
April 8 Ride out: Tour of the Shires. Depart Sun Inn SN3 6AA 9.30. Phil Carter phil_arctic@btconnect.com
April 15 Ride out: Steve Halliday stevehalliday04@aol.com
Don't forget to make a note of the dates from the trifold calendar that you wish to attend into your diaries, we will also be updating the website regularly and posting on Facebook.
Here's to safe riding and some good weather.
Dave Tomlinson