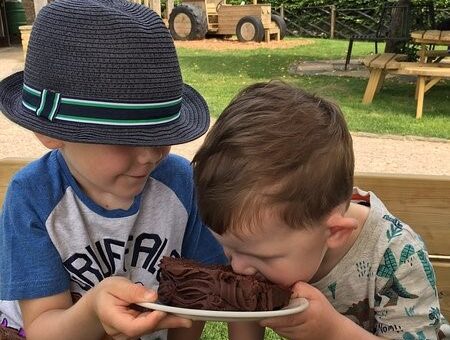 To enjoy a caffeine-fix before a rideout is paramount. Administered with inspired conversation it puts one in the mood for two-wheeled morning adventure. Cafes are open again but not fully everywhere. Our planned meet at Costa, Thame looked a bit lame. Take-away service only and two micro-sized tables on the narrow pavement. A scout around revealed 'England's Rose' a gentle spit from Thame at Postcombe on the recently truncated A40.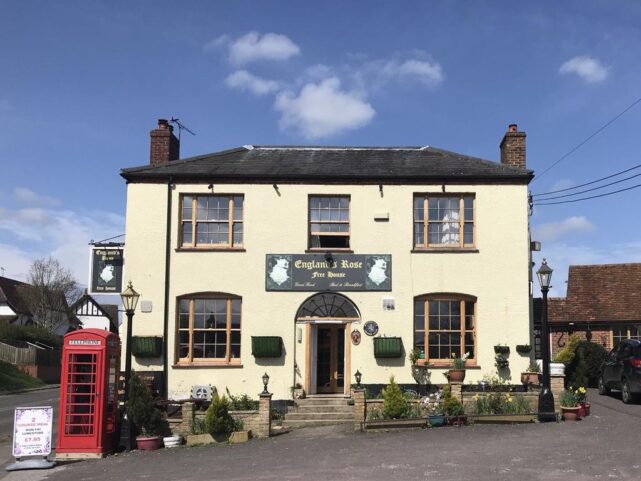 Sheila was our host, a charming landlady with a PhD in hospitality. Markus was first to arrive from Cheltenham on this bright morning, on a gleaming RT (note to self – make more effort in the gleam department!). James, Andy, Ian, Stuart and Bob followed. Delicious coffee and eats were served in what appeared to be rolling acres of back garden. Bob shared his disappointment at not being allowed on the play equipment.
Sheila, a true community champion asked to excuse herself from coffee serving duties as she needed to undertake her daily 13-minute circuit of the village. She supports the charity MIND and even has a small bric-a-brac table on her forecourt. She spotted the yellow TVAA collection tin and told us how her customers also support our favourite club charity.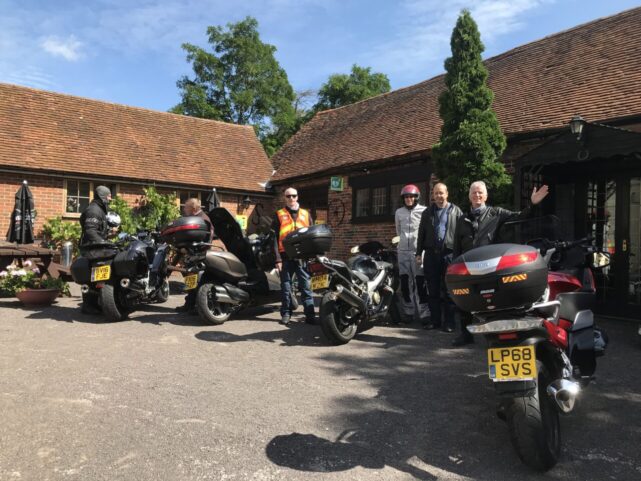 As departure time approached, it was time for our pre-ride briefing and reminder of covid precautions. Some photos outside the pub and then time to get on our way.
On rural roads out towards Chalgrove, once site of a battle back in 1643 between Royalist and Parliamentary cavalry – not John Hampden's best day!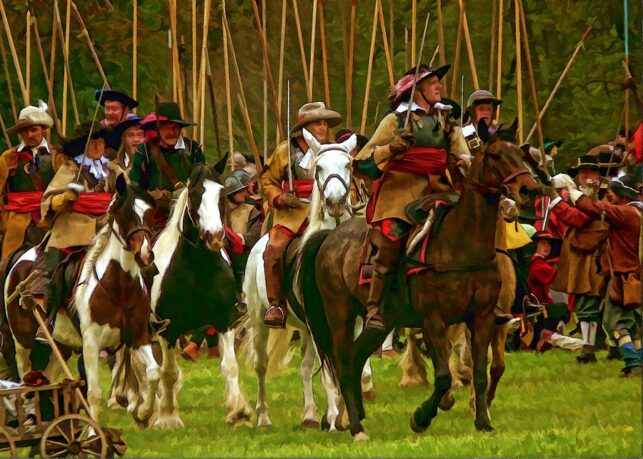 Soon we are crossing the Thames at Clifton Hampden. With its pub and riverside campsite, it gives a sparkle to Oxfordshire on this beautiful sunny July morning. Now towards Appleford and we pass close to Pendon Museum at Long Wittenham. Scale models of the Vale of White Horse in past times can be found here. A bumpy re-route for road closure at Sutton Courtney takes us to Milton and Steventon.

We arrive at West Hanney and take a leg stretch. Calamity! Andy seems to have lost his mobile phone on route. Much searching, calls to pub and phone but to no avail. Andy decides to re-trace the route in hope of retrieving said item. We will miss him at lunchtime as he sets off. All turns out well. The phone is discovered safe and well on his kitchen table! A familiar tale, which I think we could all confess to at some time.
Undaunted, we five press on to the Old Shed at Charlbury. Sweet, brisk roads up to Witney before the curvaceous B4022 glides us up to our destination. Ian is unable to stay to lunch so we remaining four enjoy the best of Oxfordshire fare (macaroni cheese?) Bob entertains us with daring tales of speedway bikes he has owned and ridden. My memories of punting a TR6P around London streets seem a lot tamer.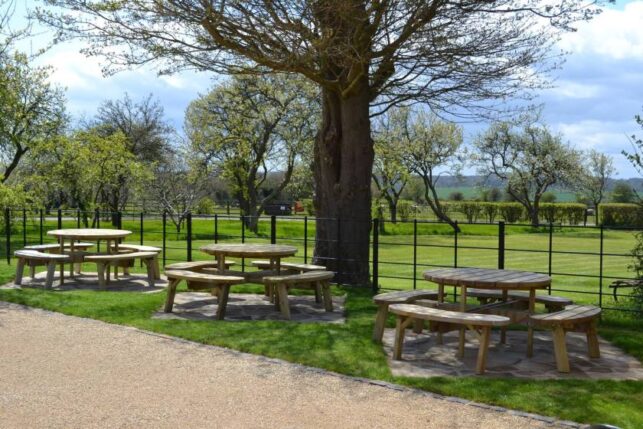 Lunch and chat finished it is time to gracefully wend our individual routes home. But unlike the doggy slumbering by the open fire, dreaming of past rabbit chases . .. . . .  we can look forward to our next club rideouts in August.