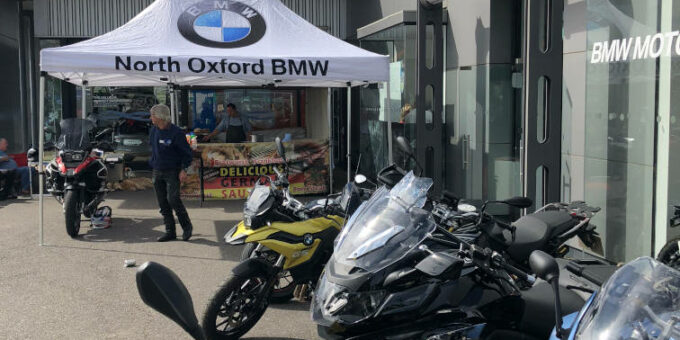 BMW Club Oxford Section Report for December 2018
Change of Venue
With immediate effect the pub social based at the Prince of Wales, 60 Barrow Rd, Shippon, Abingdon, OX13 6JQ has been moved to:-
The Cherry Tree
33 High Street
Steventon OX13 6RZ
R1250 Crowd Sourced Road Test project
We would like to invite members to test (at your leisure) the RT R1250 model with the main focus would be the new engine of course.
We would then report your views under a small number of key headings:-
1250 engine impressions (power/torque/noise)?
VVT system in operation (can you detect operation?)
R1250 in operation, what's it like to ride?
New exhaust system
Slipper clutch
Dynamic Hill Start Pro (new modes and operation)
Overall impressions: better than the R1200, would you buy one?
New technology on the bikes, do it enhance your riding experience?
Send all your comments / suggestions to dave.tomlinson@bmwoxford.comSocial Secretary for the Oxford Section
December 9th– Uffington Nigel Richardson – Indochina Travels
The presentation covered Nigel's 7 week 5,000 mile trip on his GSA around Indochina. Illustrated with approx 300 photographs, it covered the highlights of his ride through Thailand, Laos, Vietnam and Cambodia. Historical sites such as the Bridge over the River Kwai, the Vietnam war tunnels and Cambodia's killing fields were on the agenda but addition there were photographs illustrating the countries' religions, many ancient sites such as Angor Wat, the great biking roads in the north, and scenes from Vietnams "5 Hs" i.e. Ha Long Bay, Hanoi, Hoi An, Hue, and Ho Chi Minh City. Many photos featured the contrasting lifestyles of diverse ethnic groups; always happy to welcome a foreigner to their land. And of course as bikers, we saw examples of the challenges that face riders in these countries such as Thailand's Road 1864 bends, riding across narrow rickety bridges, battling with some of the 45 million motorcycles in Vietnam, and failing to avoid livestock on the road. Nigel finished the talk by simply saying that if there is one 'bucket list' tour that needs to be done, then this one must be close to the top of the list. All in all it was an informative and exciting talk
December 2018
A number of Christmas dinners were enjoyed across the 3 counties covered by the Oxford section by a substantial number of members, thoroughly enjoyed by all!
Sat Nav Event – Steve Moxey
BMW Navigator V,VI Top Tips guides available so that members can get a copy for a £5 donation to Thames Valley Air Ambulance, a very good cause to support
Future Events: January 2019 / April 2019
February 10thINDOOR MEETING:Uffington village hall, soup & food, Speaker: Geoff Clough 14.00. Travel Talk Isle of Man Geoff Clough geoff.clough@bmwoxford.com
February 17thTen Pin Bowling: Southern vs Oxford at Newbury Bowl. Bob Mack bob.mack@bmwoxford.com
February 24thSunday Lunch: Hongxin Chinese, Pepper Box Hill, Peatmoor, Swindon SN5. 12.00 for 12.30 Martin Skennertonmartinsken@hotmail.com
March 10thIndoor Meeting: Uffington Village Hall, SN7 7RA. Speaker Gemma from ROSPA
March 12thDiamond Light Source Tour, Harwell OX11 0DE 18.30 Catherine Moxey catherine.moxey@bmwoxford.com
March 15 – 17 Spring Weekend Hotel Break – Hotel Collingwood Bournemouth Rob marrionrob@btinternet.comGeoff geclough@gmail.com
March 24thSunday Lunch: Astall Leigh Rosemary Hicksrosemaryhicks@hotmail.com
Don't forget to make a note of the dates from the trifold calendar that you wish to attend into your diaries, we will also be updating the website regularly and posting on Facebook.
April 14thRIDE OUT:8.30am meet @ Piggies SN15 4PW for breakfast, leaving at 9am to Sammy Miller's for lunchNoel Robertson noelrobertson@btinternet.com
April 21stRIDE OUT: Charity Berkshire Egg Run, meet at Sainsburys RG31 7SA J12 M4 John Hillier 27johnhillier@gmail.com
May 12thRide out: Whitchurch Silk Mill guided tour and cream tea. Rosemary
Hicksrosemaryhicks@hotmail.com
May 17th– 19thWeekend Break: Hotel in Ludlow, ride out to Central and West Wales. Carl Flint cerfsky@sky.com
May 26thRide out: Bike Shed 2019. Meet 8am Peartree services OX12 8JZ, travel to breakfast at the Ace Café Tobacco Quay, Wapping Ln, London E1W 2SF. Chris Bondchris.bond@bmwoxford.com
May 31st– 2 June Lechlade Camping Weekend: Bridge House Camp Site Lechlade GL73AG. www.bridgehousecampsite.co.uk Dave Hawkins01993 850862 or maddave02@hotmail.co.uk
Here's to safe riding and some good weather.
Dave Tomlinson
dave.tomlinson@bmwoxford.com