Did someone say that after Everest it was going to be all down hill from now on?  Well it has been, then up again, then down, then up, then down, down again followed by up, up, up, only to go……..well you get the drift.  It's called the Tibet-Sichuan Highway.  Not a highway as we know it Jim but 1200 miles of 4000m + passes, stunning drives along raging rivers in deep gorges, mountains and hills that are mist shrouded, glaciered, and heavily wooded.  That's the good news.
Welcome also to roadworks requiring cross country diversions, mud, mud not so glorious mud, river crossings,  well at least they half cleaned the bikes, and surfaces to rattle these old bones to bits, not to mention the Beemer.  Oh and the traffic.  If you are not stuck behind a smoke belching behemoth on a narrow track with no passing place, its the convoys of Toyota Land Cruisers that travel in hazard light flashing packs, refusing to budge from their position on your side of the road that make you thankful you're only travelling at 10 mph in the first place.
Was it fun?  Only if you are a masochist, but what an experience!  Probably the most challenging 6 continuous days riding I, and probably most of the others, have ever done.  It now rates as my new 'best' route.  Yes, I should be certified.
As before, pictures speak louder than words, I now have 1,400!, and again suffering from poor Internet, so I will send them separately.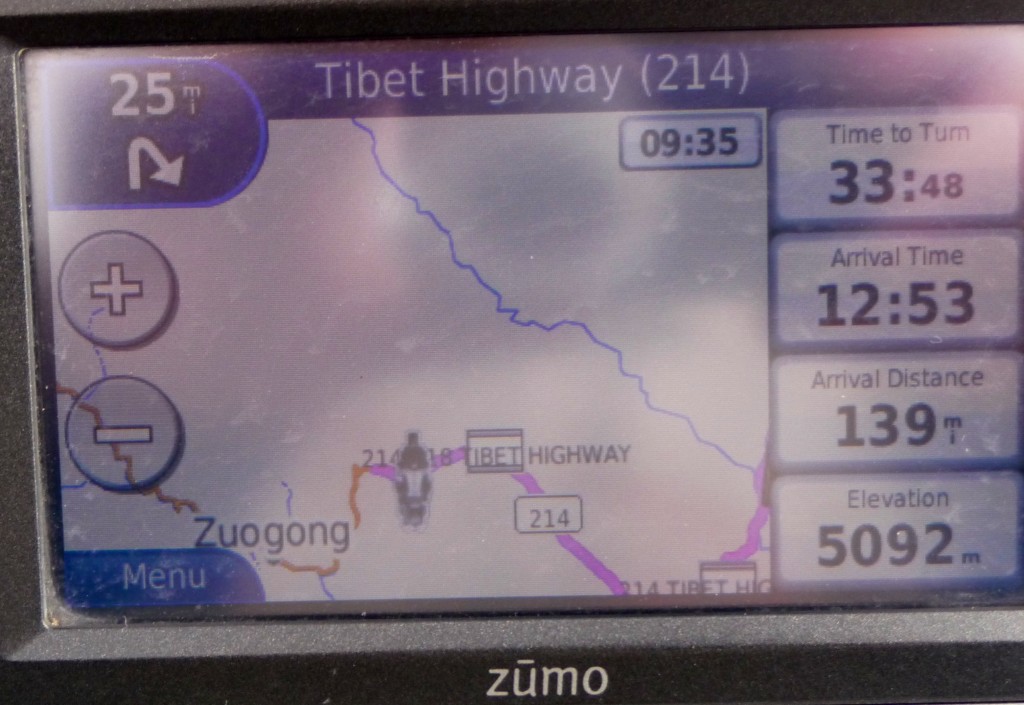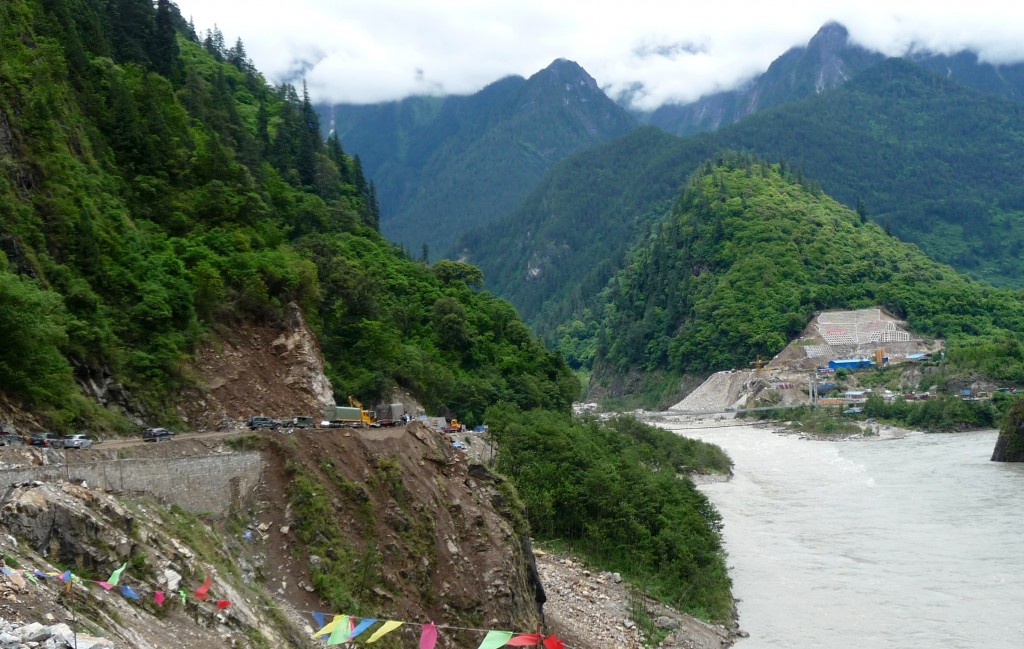 River deep mountain high traffic jam.  We did eventually cross that bridge in the distance.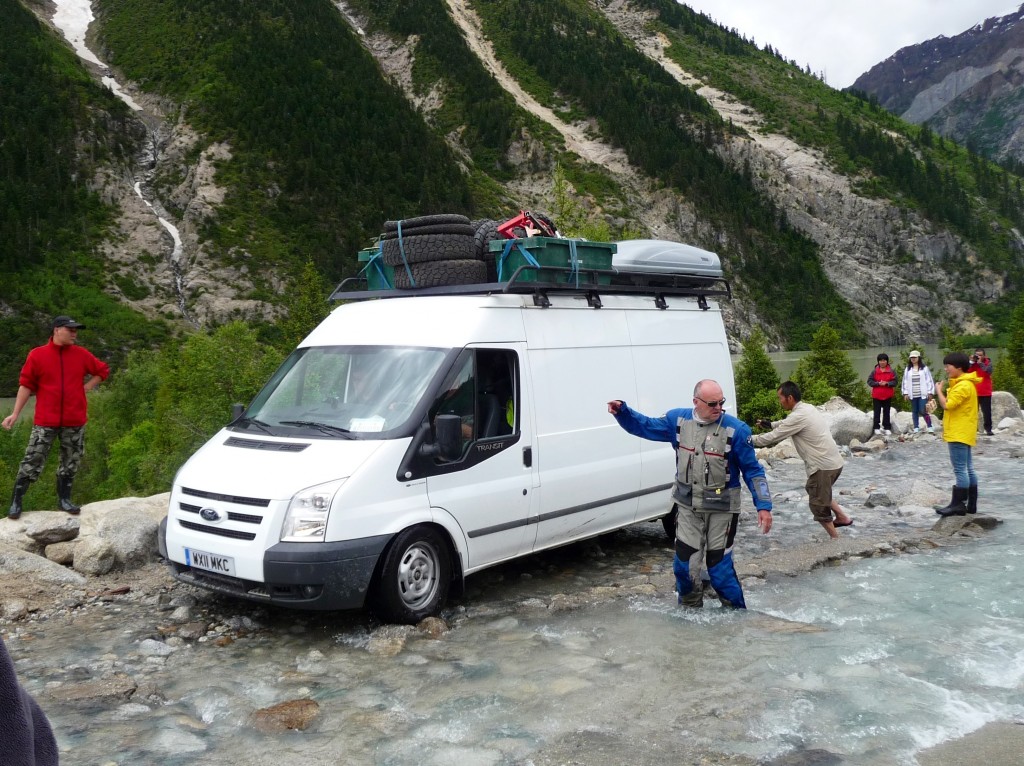 Support van negotiating a road washed away by floods.  We all made it across…just.  It's deeper and rockier than it looks.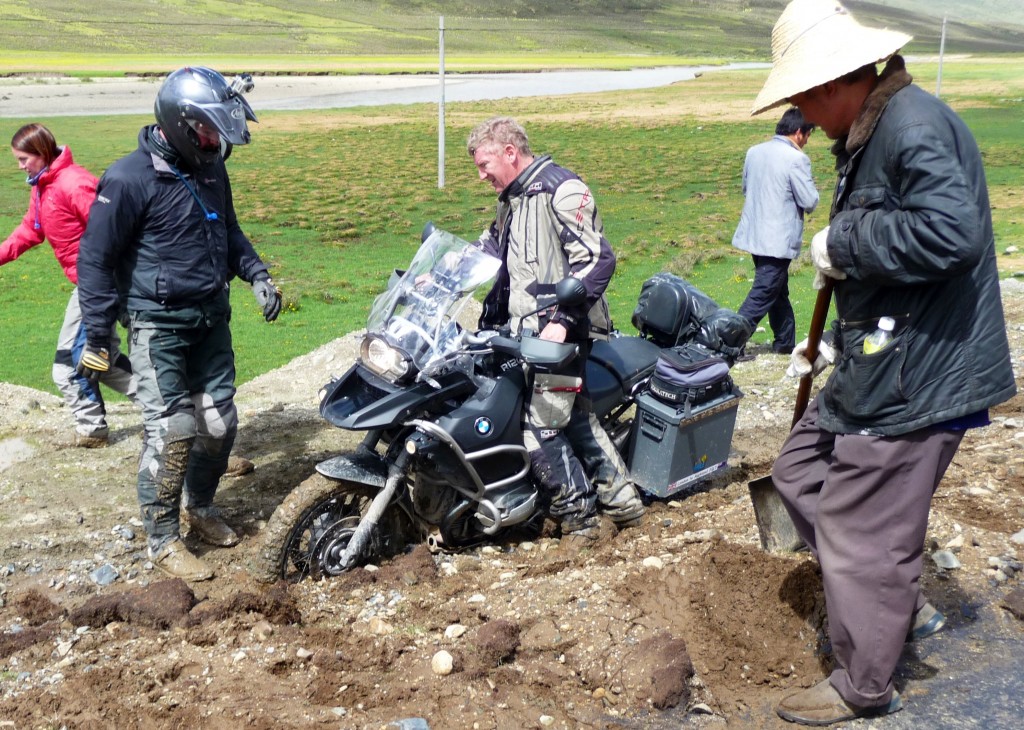 Mud encounter avoiding roadworks.  We approached across the flooded field behind Ian and Toni's bike.  Steve L is the one trying to free it.  Eventually a local (right of picture) put a shovel handle thru the front wheel which got the front out.  From then, a big push at full revs and a burning clutch.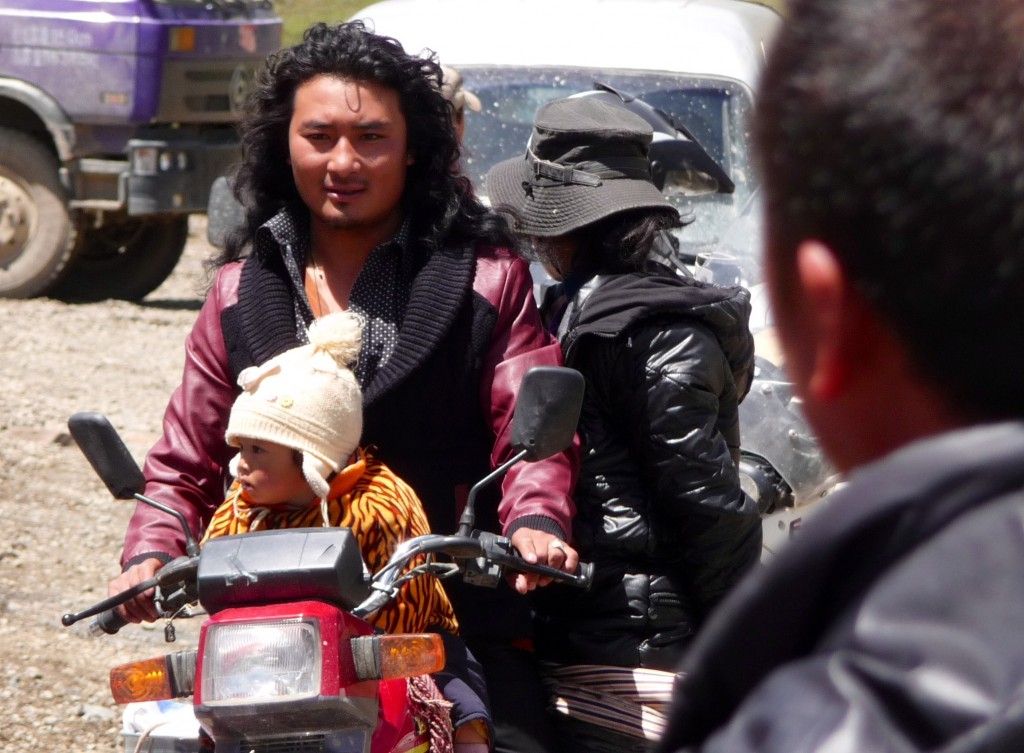 Family group caught like us in roadworks but looking far more relaxed.  I just like the photo and this is how most rural families will travel in Tibet, baby and all.  Mum has her face hidden although I have one of her separately carrying the baby.  This photo is for the ladies assuming you are fed up with all the macho bike pictures.  Not bad looking for a Tibetan.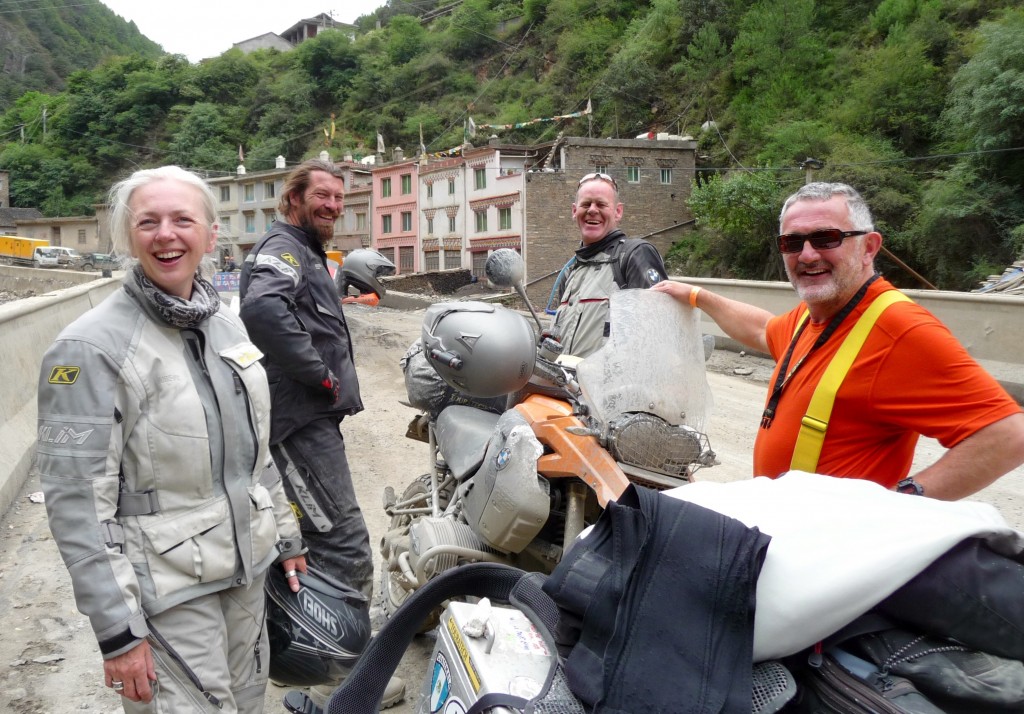 Andy, Susie, Chris and Brad pretending they are enjoying themselves and taking a rest after a particularly difficult ride through mud and flooded collapsed roads down a steep valley.  This area suffered from the recent earthquake so the village behind is full of collapsed houses and looks like a scene from a Speilberg war movie.
We are now off the Tibetan Plateau and experiencing the humidity of under 1,000 m above sea level.  That, with the manic traffic and pollution, is what we can expect for the final 10 days push to Beijing.  No rest for the wicked!
Nigel